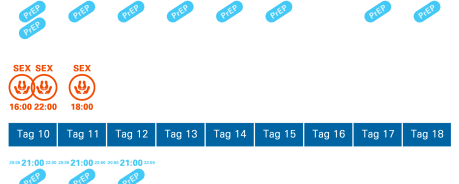 Event-based PrEP
For some people the daily regime of PrEP is not a viable option; they only want to protect themselves for a specific event (e.g. a sex party or a holiday trip). As PrEP medication does require daily adherence however, we cannot really recommend a different schema.
Be that as it may, if you do decide to go down the event-based PrEP route, you simply cannot have sex spontaneously, but have to plan your sex in advance. The corresponding tablet scheme is to initially take two pills at the same time and within a window of 2 to 24 hours before having sex. After that you have to take one tablet every day until two days after the last sex. The pills are always taken at 24-hour intervals.
For example, you have a sex date Friday night at 8:00 pm. You take two pills Friday morning at 8 am, then one tablet on Saturday morning at 8 am and one tablet on Sunday morning at 8 am. This should protect your sexual encounter on Friday night at 8 pm. If you also have sex on Saturday, the tablet intake is extended for another day to Monday morning at 8 am.
It is important to realise that you are only protected through PrEP if you have actually taken the tablets and that you should use other prevention strategies during the times when you have not taken any pills.
If you have not taken PrEP for a longer period of time and would like to start again, it is advisable to do an HIV test before starting PrEP to make sure that you have not been infected in the meantime.
In case you have further specific questions you can of course always contact Hein & Fiete or your doctor.
 

Kai Eckstein
HIV/STI testing counseling checkpoint