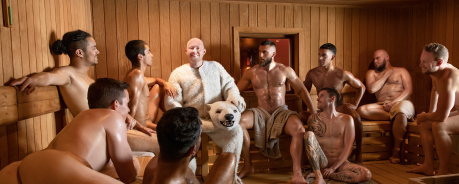 "I'LL SERVICE YOU..." - Prevention counseling and testing at Hein & Fiete
At Hein & Fiete you have the opportunity to get free and anonymous counseling on HIV/AIDS, hepatitis B, C, and syphilis, as well as gonorrhea and chlamydia infections, and to have the appropriate tests performed.
Counseling and testing are available every Tuesday and Thursday from 4:00 – 8:00 pm. The test results can be communicated by phone the following consultation hour. With regard to HIV, different tests are available, which can be carried out according to your needs.
You have the choice between "Quickie" and "Foreplay".
"Quickie" means you make an appointment and have no waiting time. Appointments can be made Mon-Fri from 4:00 – 8:00 pm by calling 040240333.
"Foreplay" means you just drop in, but then you have to expect waiting time.
The lab test is an antibody/antigene combination test and accordingly can provide a reliable result just 6 weeks after a risky situation. To perform a rapid test, it is advisable to wait 12 weeks after a risky situation. Only then the result is valid, because the rapid test is a pure antibody test.
The counselling that is carried out by our gay, trained professionals offers the opportunity to focus on your own sexual behaviour in addition to the latest safer sex messages and strategies for minimising the risks of infections. We will also help to strengthen your individual health awareness and keep you on top of current developments in HIV prevention. In addition, the difference between the various options for protection from different sexually transmitted infections can be discussed in the counselling sessions.
This is a joint offer with the help-desk center CASAblanca.
If you would like to know what to expect when you come here to Hein & Fiete for counselling and testing, just take a look at our video clips about it.

Questions? Call us at 040 240 333 or just come by during our opening hours: Mondays to Fridays from 16 to 21 hrs, Saturdays from 16 to 19 hrs.
Hein & Fiete
Pulverteich 21
20099 Hamburg

Kai Eckstein
HIV/STI testing counseling checkpoint

Phillip Späth
HIV/STI testing counseling checkpoint